Ms. Lauren Averesch
Physical Education/Health/Music/Computers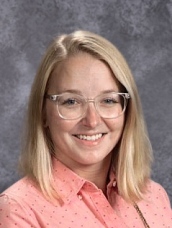 Contact Information: This email address is being protected from spambots. You need JavaScript enabled to view it.
My Web Page: Click here.
My name is Lauren Averesch. I teach Music, P.E. and Jr. High health and Computer to all the students at St. Rose Catholic School.
I was born and raised in Lima, Ohio. I have a younger sister, Allyse, and an older brother, Greg Jr. I grew up around the St. Gerard Catholic community and attended school in Kindergarten and 1st grade. My family moved to the Bath area so my siblings and I could participate in the band program throughout Jr. High and High School.
I graduated from The Ohio State University with a BS in Early Childhood Education. I continue to work at the Lima YMCA in the youth department teaching Y Kids Are Fit and still work in the aquatic department teaching preschool swimming lessons. I substitute taught in the Lima area public schools and Lima Centtal Catholic and found an amazing community supporting the Catholic school system.
In my spare time I enjoy spending time with my family and my dog, Blue, as well as painting, spending time outdoors, and listening to live music. I feel blessed for being accepted into the community at St. Rose and look forward to the many friendships I will make with the people from school and church.